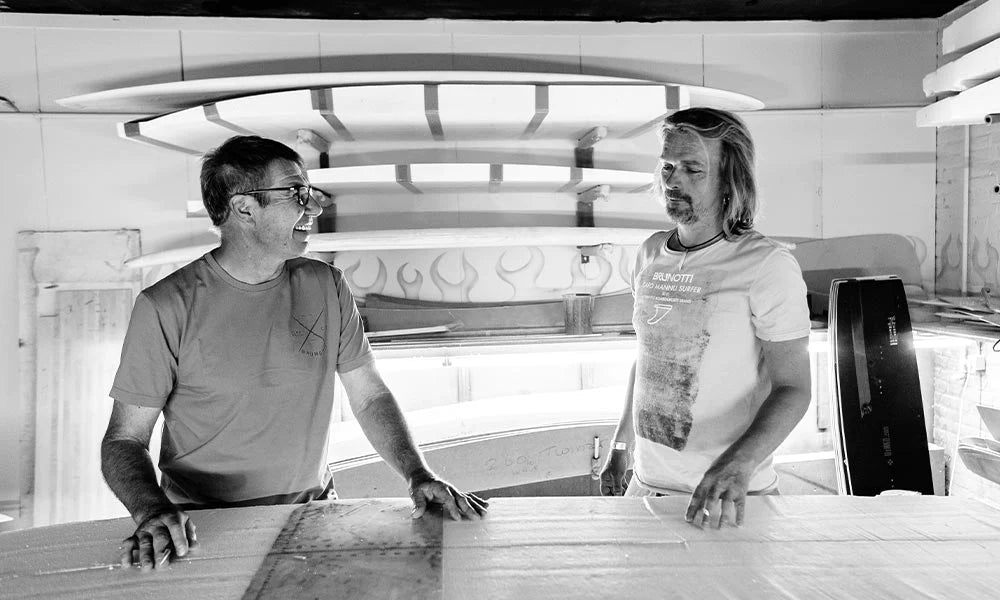 HERITAGE
BOARD BUILDERS
In 1979, the then 13-year-old Italian Claudio Brunotti was looking for the perfect wind and waves. He found these ultimate – windsurfing – conditions in Dutch surf spot Scheveningen. He fell in love with the Dutch vibe and the possibility to do all board sports. He thought white surfboards were boring so Claudio started shaping his own colourful boards in Scheveningen.
Soon the Italian master – board – chef became well-known for his shapes. His passion for all types of board sports and his sense of style, colour and Italian craftsmanship were unique. Brunotti expanded into a large board sports brand.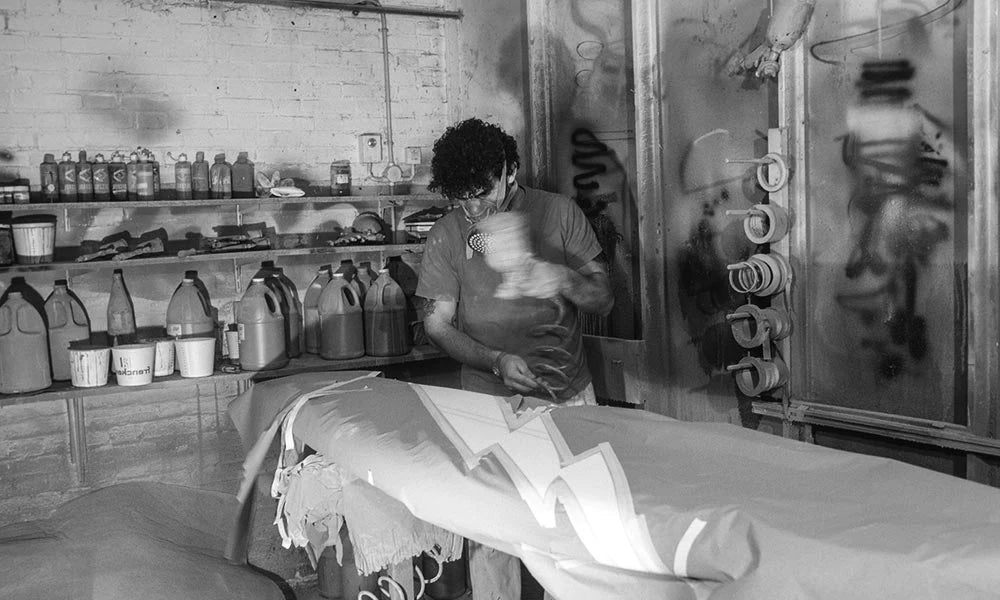 SCHEVENINGEN 1983
CUSTOM BOARDS
In 1988, the then 17-year old surfer Jinne Sietsma started working in the Brunotti shape room in Scheveningen. Claudio taught him all his tips and tricks. Claudio was a perfectionist, so Jinne was not allowed to do much more than watch and sweep the floor. Eventually he started shaping the bottom of the board, because the top is the trickiest part. 

But Claudio soon found out that Jinne was a quick learner and had a knack for the art. So very soon he passionately started shaping boards from top to bottom. Jinne made himself indispensable thanks to his competence. In 1995, Claudio longed to be in Italy again and put Jinne Sietsma in charge of the shaping. Our boards are still shaped in Scheveningen, where the roots of Brunotti lie. "We are proud that we have been able to call Jinne Sietsma our head surfboard shaper for more than 20 years already and that we can call Scheveningen our home town", says Brunotti CEO Henk Bergsma.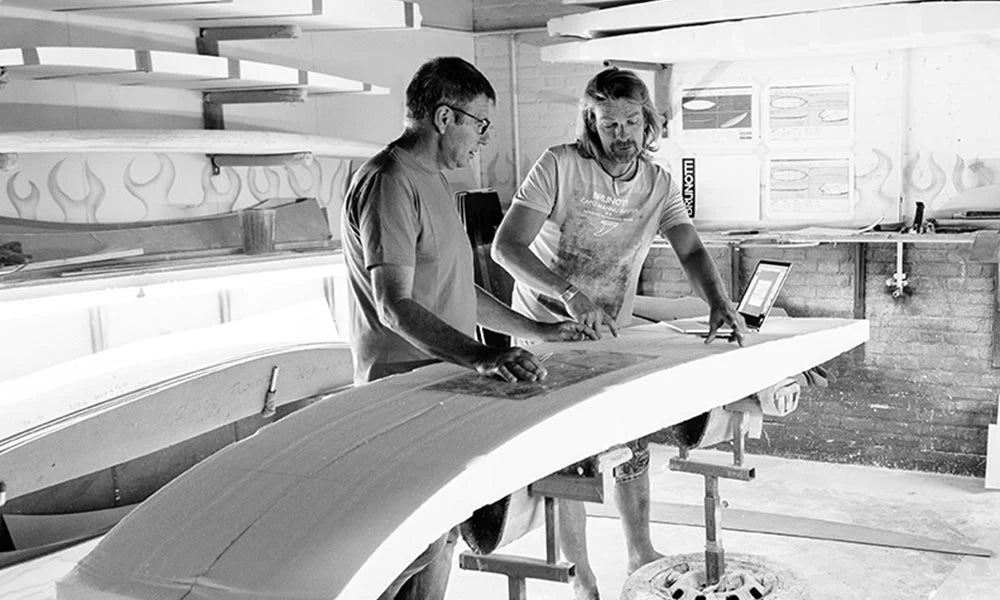 CERVINIA, ITALY 1990
WINTER APPAREL
Jinne Sietsma only selects real masters to join his team. Brunotti collaborates with Peter Thommen, also called the World Champion of Shapes. He has shaped more than a thousand boards and a great many windsurf professionals have won medals with his shapes. But Peter does not only shape for top athletes: he is an all-round shaper and makes boards for beginners to diehard board athletes.

Peter was born in Switzerland and started shaping as a hobby in his backyard. Not long after, he founded his own company: Streamline. Peter travelled "and still does" all over the world and soon became a well-known figure in the up-and-coming windsurf world. He gave up his job as a journalist and brought the R&D shop of market leader HiFly, located at Garda Lake in Italy, to a whole new level in 1982. Three years later he started working for the then upcoming brand F2. Here he spent a good 17 years, bringing F2 to a high leading position. The many world titles won by F2-sponsored athletes can?t be counted on the fingers of two hands.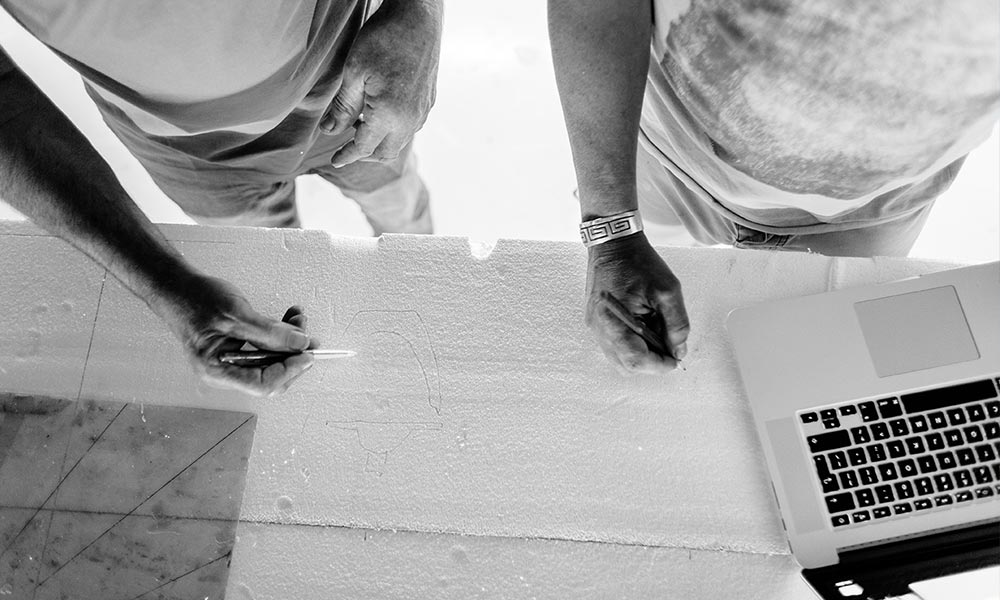 RIDER DEVELOPED PRODUCT, 1997
NEW SHAPE MASTER
Windsurfers like Bjorn Dunkerbeck, Jutta Muller, Karin Jaggi, Britt Dunkerbeck, Jason Polakow and Josh Stone all won on F2 by Hommen boards. Thommen got an important role in the professional windsurfing scene and his iconic shapes became worldwide bestsellers. Peter's involvement and expertise were crucial at the launch of JP-Australia. As JP's head shaper, Peter brought the windsurf boards to an unprecedented quality level and his work still means a lot for the current level of and requirements for surfboards and windsurf boards.

Peter is still important now in the development of the best boards. He works in a custom-made way to be able to respond to every customer's specific wishes. Collaborating with Peter Thommen was a natural choice for Brunotti. Brunotti offers boards for all kinds of board sports and Peter Thommen is the most important shaper in our team when it comes to made-to-order windsurf boards.